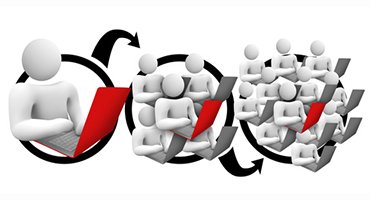 Like, Share, Comment and live stories. The world is revolving around the influence of hashtags. Social media marketing services are like wild-fire, which distributes content, drive more traffic and build deep customer relationships. Unlike other traffic channels, like PPC and SEO, social media marketing gives you the invaluable benefit of eliciting a direct response from the audience about your brand quality and the products you offer. It is awesome for fast-moving consumer goods and for almost any kind of B2C business. Social media is the only channel where you can get feedback from customers instantly, as they either share your post or ignore it.
we as a social media service provider, come into the role to measure consumer sentiment and zeitgeist in response to major events.
We draft, design, and manage fully integrated social media campaigns that include an entire content strategy for mid-size to large businesses. We analyse, monitor, and optimize brand presence and reputation online making it every platform responsive.
These days campaigns become more effective if driven across different mediums. We believe in the same to take the said campaign both offline and online so as to create more buzz around. Social media marketing is something that we can take advantage of through content strategies, campaigns, etc. to keep things updated and stay involved with the target audience. We design a campaign keeping in mind, increasing website traffic, building conversions and raising brand awareness through word of mouth.
Our social analytic team monitors conversation on owned and earned channels in real-time to help facilitate social media services and engagement. We move ahead to take the cognitive process of generating visual mental imagery, which our clients or customers can gather with eyes open or closed. Having a pulse on your social networks takes more than monitoring.
We actively involve ourselves in listening to mentions or discussions across social platforms. Our social media strategy focuses on achieving the required business outcomes leveraging relevant niche social media platforms such as Facebook, Twitter, LinkedIn and Instagram. We specialize in adopting a holistic monitoring approach of your online presence and conduct real-time analysis to craft high-quality content for attracting, engaging and nurturing social relationships.
Why We Should Manage SMM for You
We think about what your customers want. We don't just post kittens on Facebook
We care about your business' growth and real audience engagement. We do not drive useless bots and traffic to your site
We know how to make people talk about your business on social networks
Scroll